Would you believe me if I told you I used to be an opinionated jack-ass? Well, you shouldn't--the tense of that sentence is wrong. I'm still an opinionated jack-ass. Fortunately, I'm not quite as extreme as I used to be.
In one particularly egregious example of jack-assery, I got into an argument with someone about the appropriateness of including Santa Claus in ward Christmas parties. I was adamant that Santa Claus had no business having any mention in the church, as we should be teaching people, especially children, about Christ. Fantasy and mythology need not apply. My inflexibility on the subject leaves me a bit embarrassed. I certainly could be an idiot when I was younger. As I've learned more about how children's I've come to understand that to young children, when we talk of Christ, he is every bit as real as Santa Claus. At the same time, to a young child, Christ is every bit as mythical as Santa Claus. By the time children develop the cognitive ability to distinguish between fiction and history, it really doesn't matter what they've learned about Christ and Santa Claus.
Realistically, all children will eventually learn that Santa Claus is fiction. Christ will suffer the same fate unless the child feels the Holy Spirit confirm the reality of Christ to them. Currently, my opinion on Santa Claus at ward parties has evolved. Just have fun and spread joy.
Joy is a good word for what I've felt much of the past week. My family has been on a cross country road trip from Cleveland to Los Angeles. We've taken a rather indirect route, visiting family and friends along Interstates 80 and 70. I can't begin to explain how much I've loved watching my daughters play together; support each other in those awful long days in the car; sing songs together; and giggle with delight on the Tram up a mountain. This trip has been 100 times more fun than I anticipated.
As we talked to our daughters about the places we would see, Bug said that she wanted to stop in Salt Lake City to see Temple Square. She has a familiarity with pictures of the Salt Lake temple and was curious to see the building that is in so many of the pictures she has seen at church (I guess).
It didn't really hold her interest. By the time we made it to Temple Square, she was more interested in running up and down the sidewalks, admiring the flowers, and trying to play in the fountains. Pretty much anything we showed her would hold her interest only briefly. Invariably, she would take off running and giggling.
To finish our visit to the Square, we stopped in to see the Christus statue. The physical design of this exhibit is brilliant, as you are able to walk up a spiral ramp to the viewing area. The statue kind of pops into view and leaves quite an impression.
Bug was particularly struck by this statue, and she positioned herself about 5 feet away from the pedestal, looked up, and was positively glued for a minute. Then she did something that really stood out to me. I watched as she lifted her arms to 90 degree angles. She turned her palms up, tilted her head down, and examined her hands. First her left, then her right. Slowly and deliberately, she looked up again at the statue. She studied Christ's hands carefully, comparing them with hers. Christ's hands had strange holes that her hands didn't. It was a difference that captivated her.
After a couple minutes, she stepped away, and we made our way back downstairs. The downstairs portion of the exhibit displayed several large paintings depicting Christ's life and ministry. I took Bug's hand and walked her over to one painting of Christ hanging on the cross.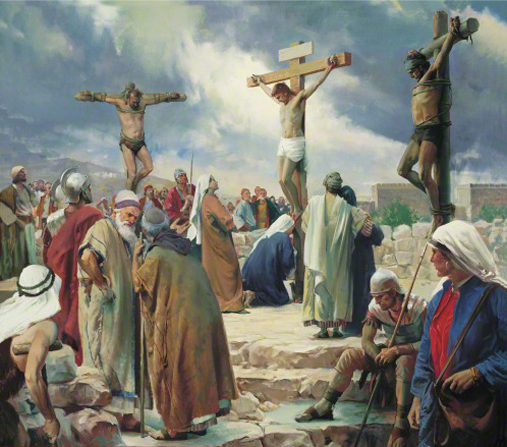 "What do you notice about His hands?" I asked her.
"They're bleeding."
We talked about how people drove nails through his hands to hold him on the cross
1
. We discussed the significance of Christ retaining those scars after his Resurrection to remind us of how he suffered so that we could return to God.
Bug is normally very sensitive to discussions about people suffering. She usually withdraws from such conversations. She worries about people who suffer and her sadness is visible in her eyes. I saw a flash of that withdrawal for a moment at the start of our discussion. But it was only a flash. Then I watched as truth infiltrated her soul. I watched the Holy Spirit reach out to her. Right then, I saw Christ became more real than Santa Claus. For the first time, Christ became real to her. And with her help, once more Christ became real to me.
Bug turned to the podium in front of the painting. "What does this say?" she asked. I read:
he was wounded for our transgressions, he was bruised for our iniquities: the chastisement of our peace was upon him; and with his stripes we are healed. (Isaiah 53:5)
"With his wounds, we are healed." I explained to her, fighting back tears. She wrapped her arms around my neck, and I could have lived in that moment forever.
"Daddy?"
"Yes, Bug?" I looked her in the eye, ready for the profound truth about to come from the mouth of my babe.
"I need to go potty."
1
"Because they ran out of rope" she said. (the thieves are tied up with ropes in this painting)